Researchers at Websense state that companies need a security system that acts in real time.
Researchers from Websense submitted a report which stated the reasons for the large number of security incidents involving theft of data.
The main reasons for the theft of confidential information stated by Websense is effective luring by intruders in social networks, it is difficult to detect malware, as well as separate confidential data from other information.
"Traditional methods of protection will no longer work. Organizations need protection, which will operate in real time, and endowed with several modules of detection, detailed analysis of how the internal content of a web-site and e-mail, and confidential data to be transmitted, "- said the Vice-President for Research and development at Websense Charles Renert.
Renert said that at this time stealing confidential information is most often via web-sites and e-mail. Attackers often use social engineering techniques to mislead users.
As a result, Websense study found that 82% of malicious web-sites hosted on compromised web hosting sites that are maintained by cloud and hosting services. This threatens the economy as cloud services are used everywhere: in commerce, communications and culture.
Websense also found that 50% of malware redirects users to sites that are registered in the U.S. and Canada. In addition, 60% of phishing attacks come from the United States.
The researchers note that in 2012 the number of unwanted e-mails has reduced. This year, spam accounted for 74%, 10% less than last year. Experts note that most fraudsters sent out malware camouflaged under allegedly important notices, confirmation of booking, notification of delivery of certain goods, as well as information on taxes.
Websense identifies the following classes for modern threats: bait, redirect, a set of exploits, file dropper and identity theft. Each class has unique characteristics. Traditional protection usually focus only on the fourth grade, and that is why it is ineffective. Modern malware is endowed with a unique file droppers that go undetected by traditional anti-virus software for several hours or even days.
Websense full report can be found here.
Free Download: Operation Cleanup: Complete Malware Recovery Guide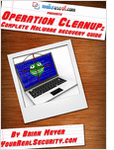 If you think your computer is infected with a virus or some other malicious software, you may want to use this guide. It contains instructions that, if done correctly and in order, will remove most malware infections on a Windows operating system. It highlights the tools and resources that are necessary to clean your system. Malware is a general term for any malicious software, including viruses, trojans, rootkits, spyware and adware. Also with this free guide you will also receive daily updates on new cool websites and programs in your email for free courtesy of MakeUseOf.